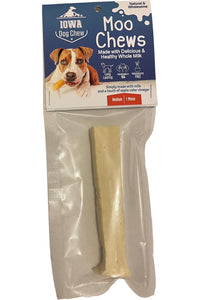 Try our medium Moo Chews for medium sized dogs of 30 lbs and under. Moo Dog Chews are made with Milk & Apple Cider Vinegar only. We buy both Milk & Apple Cider Vinegar locally here in the beautiful state of Colorado. We hand-make and hand-cut every piece of chew so every piece of Moo Dog Chews is unique. Every piece undergoes a quality check so we guarantee that every piece that we ship is of the highest quality. 
Free shipping on $50 and above purchase.
Ingredients: Milk, Apple Cider Vinegar.